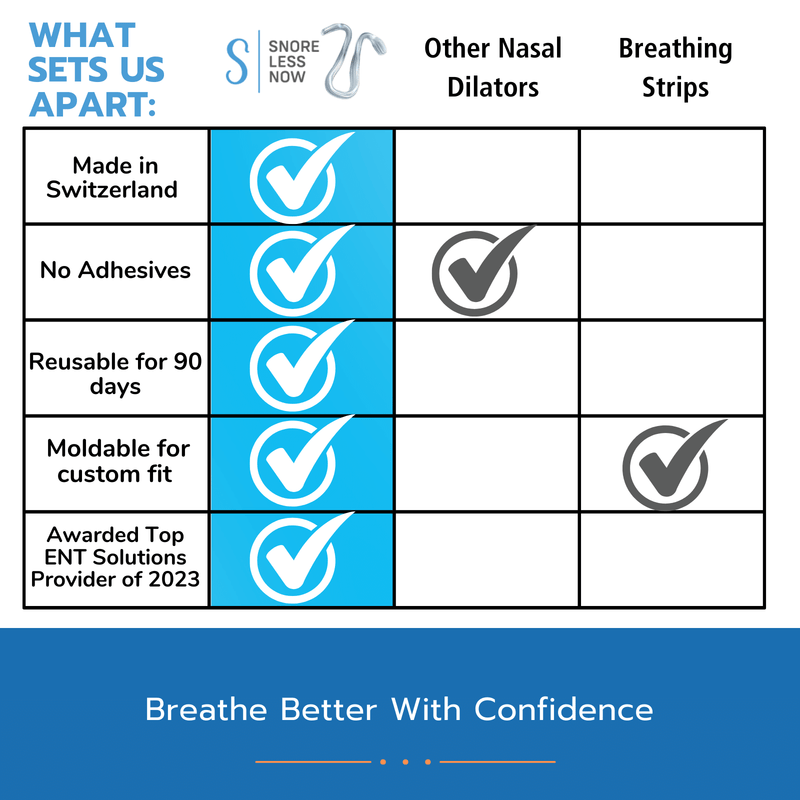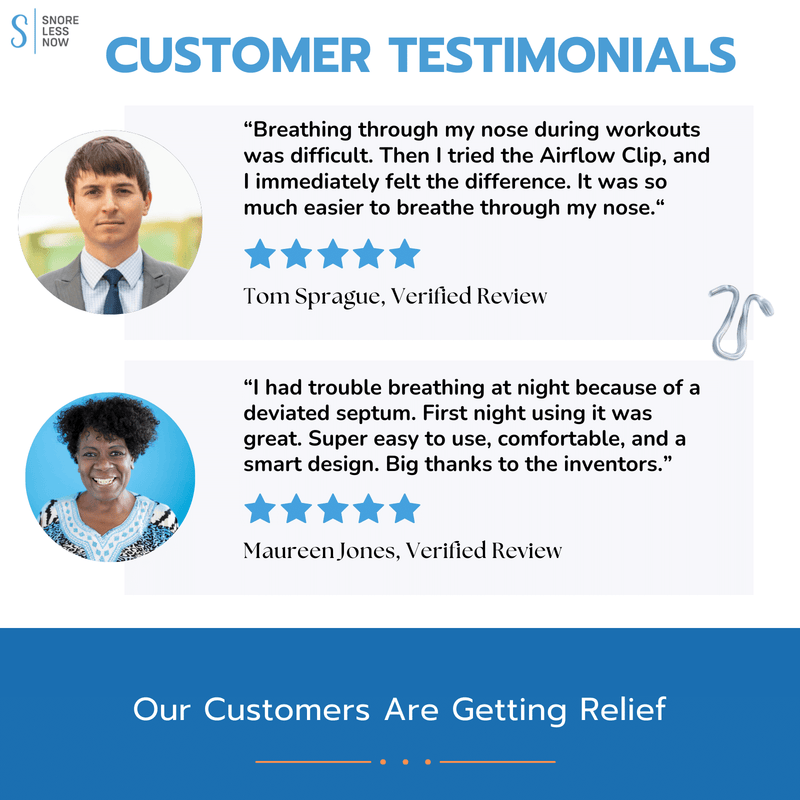 Airflow Clip Nasal Dilator
The Airflow Clip Nasal Dilator is a simple, minimally-invasive device that fits snuggly into your nostrils, gently expanding them for easier breathing. This eases congestion, reduces snoring, and improves sleep. This FDA-registered device can be customized to fit your nose better. It is eligible for HSA & FSA funds.
Expected Delivery:
12/10/2023 - 12/16/2023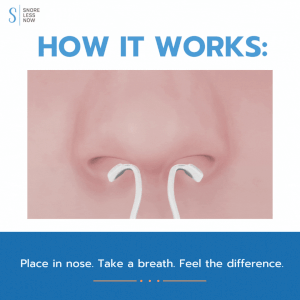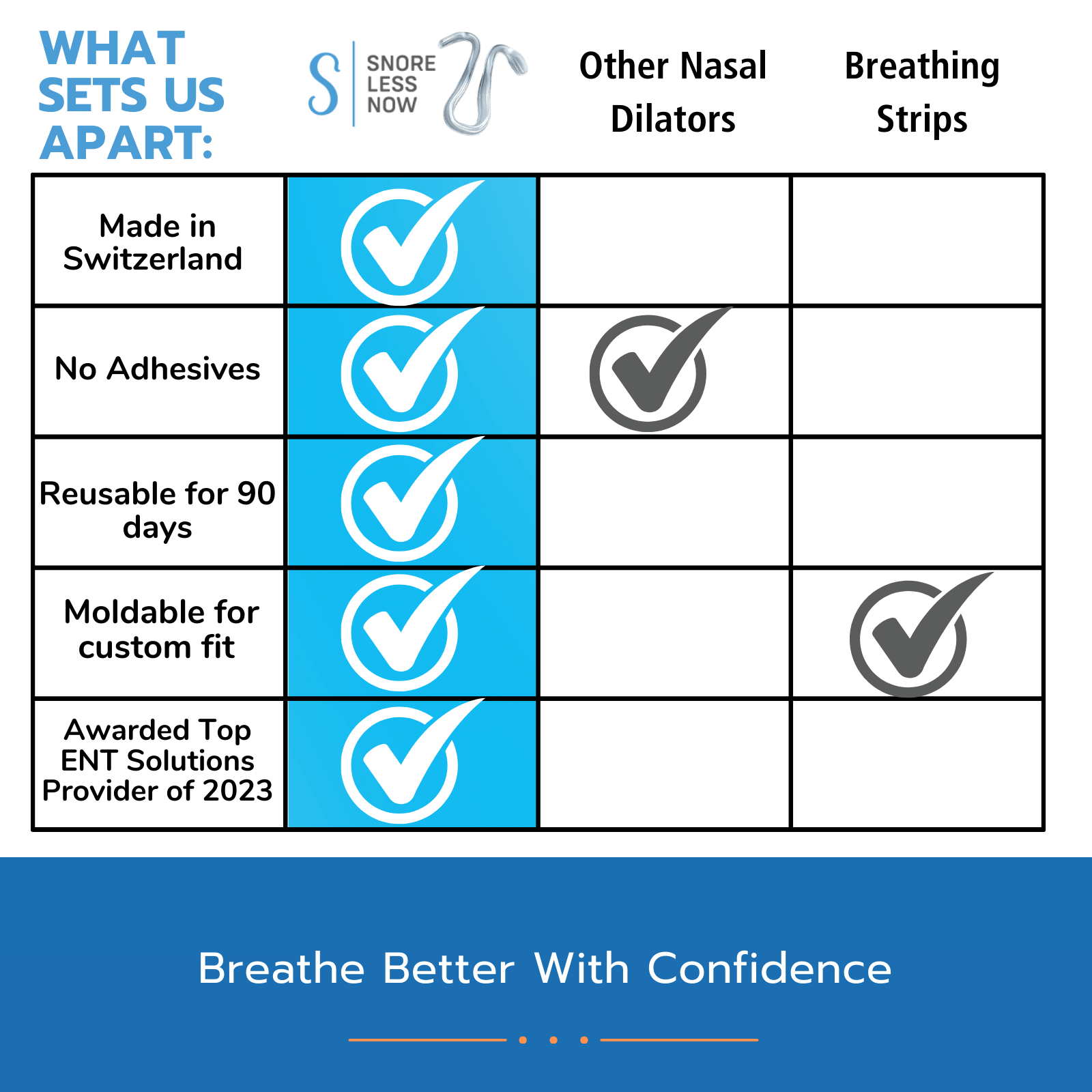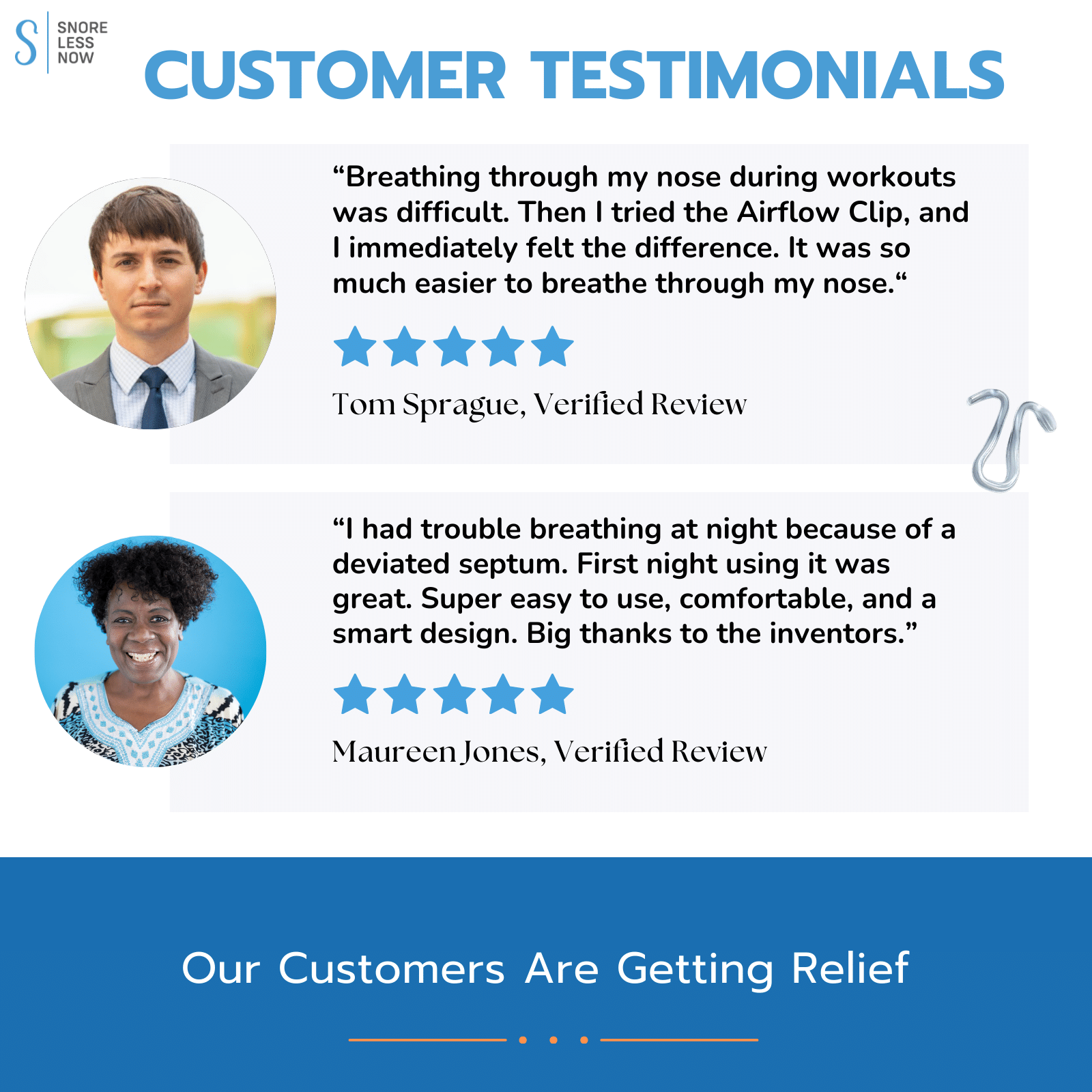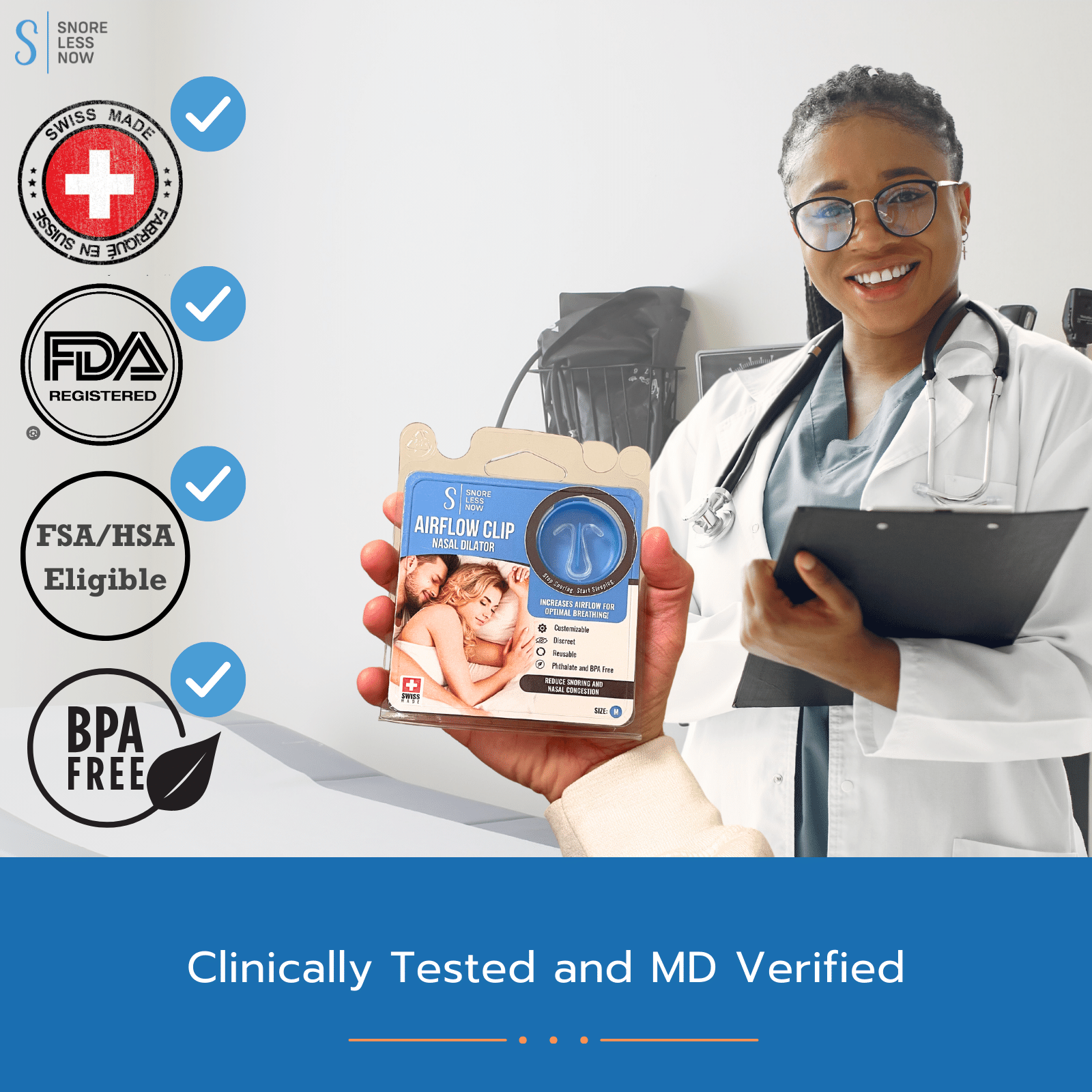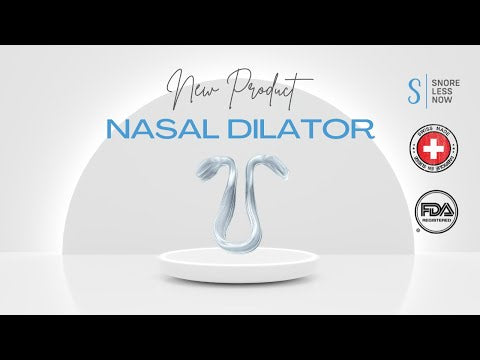 Awarded Top 10 ENT Solutions Provider of 2023 by MedTech Outlook Magazine
"Your key to effortless breathing!"

"WOW, I instantly felt it open up my airway"

" I don't think I can go to sleep without it anymore"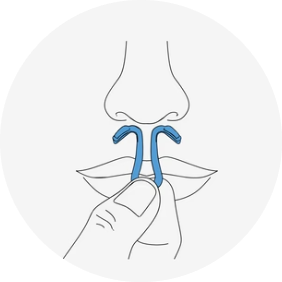 To begin, we advise purchasing a variety pack and starting with the medium-sized clip.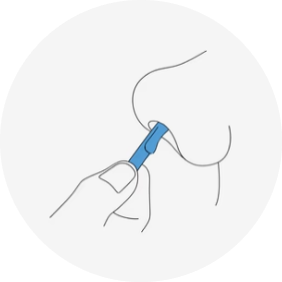 Hold the bridge of the device with the wings facing as shown.
Place the wings of the device inside your nose. Then, press the bridge straight in. You may feel it click into position once the wings are secure.
Heat some water to 140°F. Pour the water into a container and place the Airflow Clip Nasal Dilator into it for 5 seconds. Reshape to suit your nose.
There should not be any space between your nostrils and the bridge of the device. If you feel it hanging out, try a smaller size. If the device falls out easily, try a bigger size.
Customer Success Stories
Frequently Asked Questions
Explore our FAQ section for answers to common questions. Need more help? Click the chat button to connect with our friendly customer service team.
Our Airflow Clip Nasal Dilator operates by gently expanding your nostrils from within. This subtle yet effective adjustment alleviates congestion, reduces snoring, and improves your quality of sleep.
While the medium-sized Airflow Clip suits most individuals, everyone's nose is unique. As such, we recommend purchasing our Variety Size Pack. Doing so will help you determine the most comfortable fit and optimize performance.
Our Airflow Clip stands apart from the competition in the following ways:

● Innovative patented design: Ensures a comfortable fit inside the nasal passages.
● No need for external tape: Eliminates the use of 'sticky' tape on the outside of the nose.
● Swiss manufacturing: Guarantees top-notch craftsmanship.
● Aerodynamic profile: Utilizes a wing effect for a snug, natural fit.
● Customizable fit: Place in 140°F water to adjust the shape for personalized comfort.
● Long-lasting reusability: Engineered for 90 days of use.
Yes. We designed our Airflow Clip to work seamlessly with CPAP machines. Should you still have further questions or concerns, we encourage you to speak with your healthcare provider.
Gently wash it with warm water and a mild soap after each use. Allow it to air dry completely before storing it in a cool, dry place.
At SnoreLessNow, we're dedicated to ensuring you're thoroughly satisfied with your purchase. That's why we offer a 30-day money-back guarantee on our Airflow Clip Nasal Dilator. For a detailed overview of the return process, kindly refer to our return policy.
Breathing better
Comfortable. Has to be the best nasal dilator I've used. Works really well.
Hi Isaac,
We are so happy that you like the Airflow Clip!
Thank you for taking the time to leave us a review!
Best sleep I've ever gotten
I'm a big guy and just thought there was nothing I could do about my snoring. I can't believe how well my nostrils feel opened up now using these. I thought I wasn't getting enough hours of sleep but it turns out the quality of sleep I was getting was the problem. I even travel with them because Now I can even take a nap when Im at airport waiting on my flight without the embarrassment of snoring the place down. Lol.
Huge help for my meditation practice!
I've been using the snazzy little device (medium size) for about a week to lay down on my back and meditate. Usually I have congestive issues which cause me to have to turn to my side but using the device I'm able to lay on my back comfortably and get through my meditations without interruption. Definitely recommending to others!
Great Product!
Easy to use and a great product. Ready to go into winter with clear breathing and easier sleep.