Anti-Snore Pillow Memory Foam Pillow
Back-sleeping is the most common cause of snoring. Made of moisture-wicking fabric and high-quality memory foam, our clinically proven Anti-Snore Pillow has ergonomic contours that encourage side-sleeping and thus reduce snoring. Its universal design is suitable for people of any age or size, making it your go-to choice for undisturbed, restorative sleep. HSA & FSA funds eligible.
Anti-Snore Pillow Memory Foam Pillow
limited deal
Regular price

$140.00

Sale price

$119.99
Expected Delivery:
12/10/2023 - 12/16/2023
Awarded Top 10 ENT Solutions Provider of 2023 by MedTech Outlook Magazine

"New Anti-Snoring Pillow is Ending Sleep Divorce"

"Not only a gift for dad, but a gift for mom as well!"

"The most affordable clinically tested reduced snoring pillow on the market"
How It Works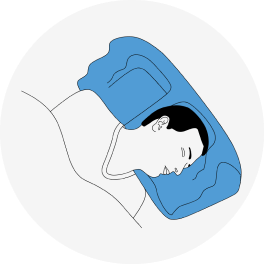 1. Comfort-First Forehead Support
This placement positions you for side-sleeping with an optimal downward tilt, keeping airways open and snoring at bay.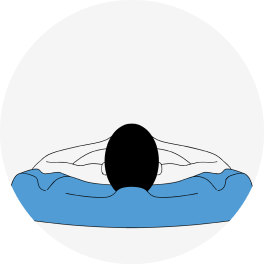 The central ridge acts as a gentle barrier, helping you sleep soundly on your left or right side without rolling onto your back.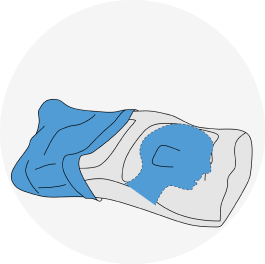 3. Tailored Comfort Cut-Outs
Thoughtfully crafted indentations your ears and shoulders, providing a pressure-free sleep experience.
4. Downward Tilt for Clear Airways
The design ensures your head is tilted just enough to open up your airway, reducing the risk of tissue blockage in your throat.
"Significant immediate treatment effects after one night"
Newell J, Mairesse O, Neu D.

Check the NIH link or download study: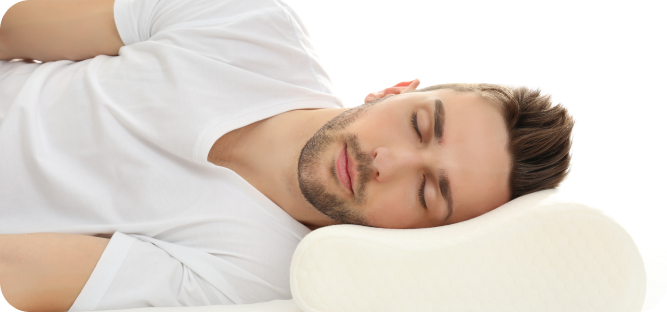 Customer Success Stories
Frequently Asked Questions
Explore our FAQ section for answers to common questions. Need more help? Click the chat button to connect with our friendly customer service team.
Snoring often results from sleeping on your back. When this happens, your throat's muscles and tongue succumb to gravity, producing that unbearable snoring sound.

Our Anti-Snore Pillow addresses this issue through several unique design elements that open your airway, facilitate side-sleeping, and combat snoring.
Both the inner and outer covers of your pillow are machine washable for easy maintenance. Machine washable on gentle cycle. It's advisable to air dry the covers to maintain their shape and fabric quality. Alternatively, you can use the low heat setting on your dryer.
The quality memory foam in the Anti-Snore Pillow comes with a 3-year manufacturer's warranty. By adhering to the recommended care instructions, you can extend your pillow's lifespan, enjoying its snore-reducing support for years to come.
Yes, our Anti-Snore Pillow is made using natural moisture-wicking fabric — its 100% cotton inner and premium velvet bamboo exterior cover both work to combat allergens such as mold, dust mites, and other microbes.
Yes, in fact it can make CPAP more comfortable. Less air pressure is felt at the back of your throat when your airways remain clear. The upper part of your mask may rub on the forehead support area.
At SnoreLessNow, we're dedicated to ensuring you're thoroughly satisfied with your purchase. That's why we offer a 30-day money-back guarantee on our Anti-Snore Pillow. For a detailed overview of the return process, kindly refer to our return policy.
No more dry mouth
I haven't been monitoring my snoring, but I can tell when I wake up that I've been sleeping with my mouth closed because I no longer wake up with dry mouth. My sleep scores have been consistently higher since switching to this pillow with fewer sleep interruptions.
Thank you so much for the detailed review! So happy to hear that we've made a positive difference in your sleep numbers!
Snoring
My Better half don't fuss at me as much for snoring, if I snore it's because I'm not sleeping on the pillow right. Thanks for such a pillow.
Really helped!!
This pillow really does help. It seemed to somehow, open my airway and significantly reduced my snoring. I use a snoring ap that measures my "noise" thru the night and my numbers went down right away. It does take a little bit of getting used to but 2 thumbs up.
Excellent sleep and customer service!
I had purchased the pillow while waiting for repairs on my prescription mandibular advancement device.
It was immediately comfortable and I slept great the first night using it...
In fact, I slept through five New York City fire trucks blaring outside my window half the night (according to my partner). .
I plan to continue to use the pillow even when I get my mandibular device back...I had a (self-inflicted) delivery issue and customer service was outstanding. Also, I appreciate the transparent links and claims for efficacy. My snoring wasn't completely resolved, but it sure helped me a lot. Refreshing sleep and refreshing to learn that this company isn't being predatory to those in need of a bit of relief. Thank you!
Effective Pillow!
Using galaxy watch to track deep sleep and REM sleep proved this pillow works. The app shows that I'm snoring a lot less but I'm also spending a lot more time in deep sleep. I can feel the difference during the day and I feel much better.